Hedland Hydraulic and Pneumatic Flow Meters
Oct 8, 2019
Hedland flow meters are variable area instruments with a difference. Their unique spring-loaded design allows them to operate in any orientation without affecting accuracy. As the hydraulic oil or compressed air enters the meter, it is directed around a contoured metering cone located within the piston assembly. The pressure differential created by the flow around the cone causes the piston to move against the spring. The piston assembly carries a cylindrical PPS/Ceramic Magnet that is magnetically coupled to an easy-to-read linear flow scale that moves precisely, in direct response to movement of the piston. Offering an accurate reading and also a quick visual indication to confirm systems are operating correctly.
Bi-directional flow capability: If required, a reverse flow by-pass option is available. Note that flow is measured in the forward direction only.
Operates in any position: The Hedland in-line flow meter's unique spring-loaded variable area design allows meters to be installed in any position without affecting accuracy. An optional inverted flow scale is also available.
Easier to read linear scale: This flow meter is the most readable product in its class. Brightly coloured indicators move over the graduated, linear Flow Scale which contains bold, easy-to-read numerals and gauge marks. This enhanced resolution virtually eliminates parallax problems associated with competitive, direct reading flow meters.
360° Rotatable guard/scale: Hedland's unique design allows the meter to be installed in any orientation without regard to scale direction. Once the meter is permanently installed, the guard/scale can be rotated 360° to optimize readability.
Rugged construction: Hedland flow meters are available in anodized aluminium, brass, T303 and T316 stainless steel, with BSPP, NPT and SAE ports. This easy to-read flow meter is a reliable and trouble-free flow rate indicator, monitoring a variety of liquids and gases (including aggressive chemicals), under a wide range of pressures, temperatures and rigorous conditions encountered in industrial applications.
No flow straighteners or special piping required: The Hedland design does not require special plumbing or accessories to stabilize turbulent flow. Flow meters can be installed immediately adjacent to 90-degree elbows or other components to provide greatest system design flexibility, while saving installation time and money.
Relatively insensitive to shock and vibration: This unique design is inherently less sensitive to shock and vibration than other variable area flow meters. The new, improved coupling forces between the internal and external magnets greatly reduce the chance of decoupling the flow indicator under high flow and pressure transients. The magnetic coupling also eliminates the need for mechanical linkages that wear, loosen and leak over the functional life of competitive meters.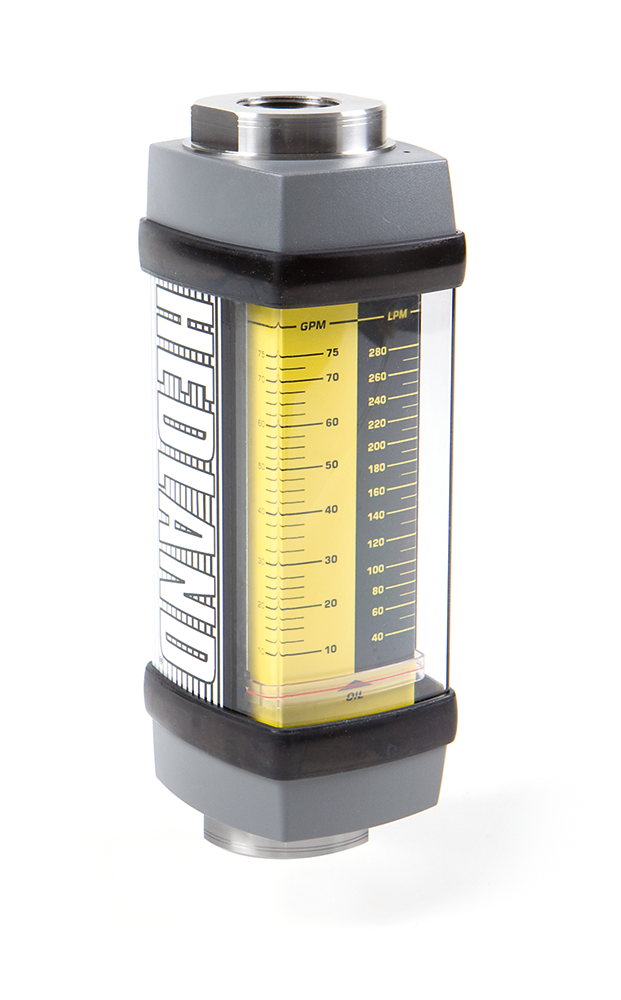 Hydraulic Applications The maximum operating pressure of Aluminium and Brass flow meters is 3,500 psi (241 bar) in 1/4 to 1-1/2 inch sizes and 800 psi (55 bar) for 3 inch meters. Type 303 and 316 Stainless steel flow meters have a 6,000 psi (414 bar) maximum operating pressure in 1/4 and 1/2 inch models and 5,000 psi (345 bar) maximum operating pressure in 3/4 to 1-1/2 inch models. All liquid flow meters are designed with a 3:1 safety factor. High temperature affects maximum operating pressure. Although Hedland flow meters are more contamination tolerant than most fluid system components, 200 mesh (74 micron) or better filtration is required to ensure reliable performance.
FLOW SCALES Standard liquid flow scales are calibrated in gpm and lpm at 0.876 specific gravity for petroleum-based fluids, 1.18 s.g. for phosphate ester based fluids Special scales are available for liquids and gases in any measurement unit, and other fluid viscosities and/or specific gravities.
VISCOSITY EFFECT (SUS/cSt) Hedland's design utilizes a precision machined, sharp-edged orifice and biasing calibration spring that ensures operating stability and accuracy over the wide viscosity range common to many fluids. Generally, high flow models of each meter size provide good accuracy over a viscosity range of 40 to 500 SUS (4.2 to 108 cSt).
DENSITY EFFECT (specific gravity) Any fluid density change from stated standards has a proportional effect on meter accuracy. Special scales can be supplied if actual specific gravity decreases accuracy beyond application limits. Corrections for more or less dense fluids can be made to standard scales using the correction factors provided.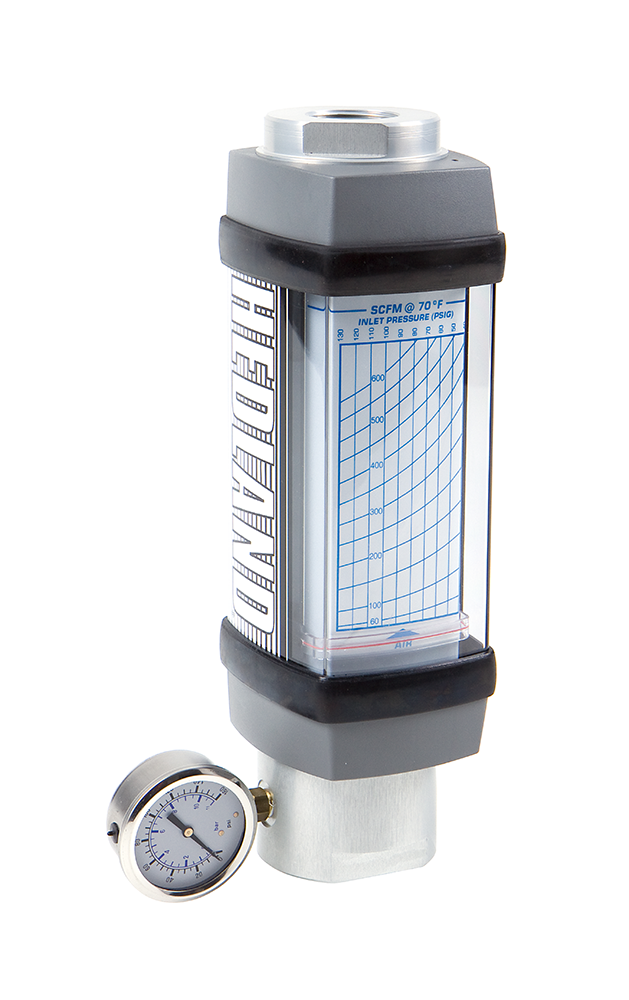 Pneumatic Applications The Hedland Pneumatic Flow Meter is offered with a standard Multi-Pressure Flow Scale. The Multi-Pressure Flow Scale has a vertically graduated scale, calibrated for air in standard cubic feet per minute (scfm) at 1.0 s.g. (70 °F at 100 psi), or litres per second (lps) at 1.0 s.g. (21 °C at 6.9 bar). The multi-pressure scale design allows for use at line pressures from 40 to 130 psi in 10 psi increments (3.0 to 9.0 bar in 1 bar increments). This configuration requires that a pressure gauge be installed at the meter inlet. To use, the operator reads the inlet gauge pressure and selects the appropriate vertical line or interpolated value closest to the gauge reading and follows the line until it intersects the brightly coloured horizontal indicator bar. The flow rate in scfm/lps is read by taking the intersection point and following the slope of the closest diagonal line to a scale value and interpolating the scfm/lps flow rate. No further calculations are required.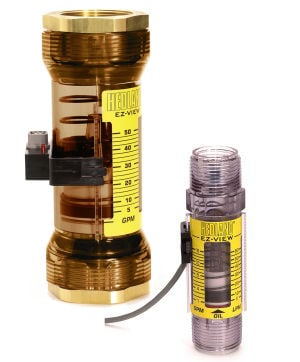 EZ-View models are the low cost Hedland option Featuring Hedland's unique spring loaded variable area design. EZ-View meters can be installed quickly without costly flow straighteners or other special plumbing requirements. These meters operate within ±5% accuracy and are constructed of Polysulfone plastic. Available port sizes range from 1/2" to 2" with a choice of brass, T303 stainless steel or PVC fittings. Optional Flow-Alert Flow Switch modules automatically signal alarms if flow is too high or too low. The switch options include AC and DC latching switch modules or a reed switch module.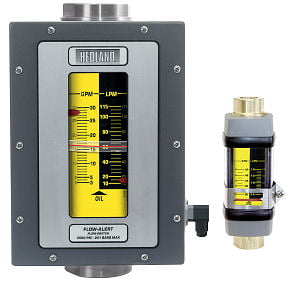 Hedland MR Transmitter and Flow-Alert models The MR flow transmitters feature non-contact sensor electronics and are designed to operate as part of a totally integrated electronic process control /data acquisition system. Flow-Alert Indicators with adjustable switches which automatically alarm output if flow is too high or too low, with single or dual reed switch outputs.     
Product Background

Hedland products are a brand of Badger Meter Inc. USA. Founded in 1905 and now employing more over 1500 people worldwide. Badger Meter Europa GmbH was founded in 1972 and is located in Neuffen, Germany. Bell Flow Systems Ltd works in partnership with Badger Meter to offer sales and support of the many recognised Badger brands which have been sold in the UK for many years.
The full range of Hedland variable flow meters can be seen on the Bell Flow Systems website www.bellflowsystems.co.uk, or contact the technical team at sales@bellflowsystems.co.uk for further information.