Ultrasonic Flow Meters- Hiring versus Buying
Jan 15, 2020
Ultrasonic Flow Meters- Hiring versus Buying
When deciding whether to hire or buy flow meters and flow measurement equipment, the first consideration is usually the capital investment and then the expected duration of product use.
Bell Flow Systems offer hire kit, not only to help assist with the decision making process, but also to make flow measurement devices more accessible. We have offered this function for numerous years supporting our clients with their flow measurement needs, however we have seen our Portable Ultrasonic Flow meters prove to be the most popular. These include the Portaflow 330, DXN Hybrid from Dynasonics and BFU-100 H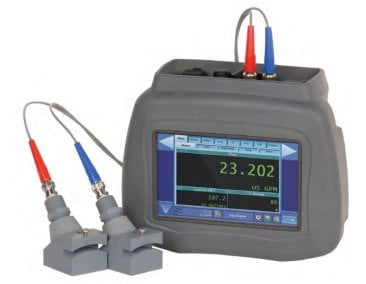 What is an ultrasonic flow meter?
Ultrasonic flowmeters use sound waves to determine the velocity of a fluid passing through a pipe. Over the last 20 years ultrasonic flow meters have become more popular throughout the environmental sector . This is because of their ability to measure in-situ flow rates from outside the pipework with optimum accuracy.  For example we offer the DXN from Dynasonics, which is a portable ultrasonic flow meter that is easy to install by clamping non-invasive ultrasonic sensors onto the outside of the pipe. The model has both Transit time and Doppler sensors for clean, or dirty and aerated liquids and can even switch between the two measurement techniques automatically, as the conditions dictate.
Ultrasonic flowmeters usually have high turndown rates, are not affected by system pressures and have good repeatability with high accuracy. As they do not obstruct flow they can be utilised in applications that need to remain sanitary or those that use corrosive and abrasive liquids. 
Why hire an Ultrasonic meter?
Hiring equipment is often a better option from a budgetary perspective. With increasing restrictions on capital budgets the demand for hire has grown significantly over recent years.
Where capital outlay of permanent flow meter installations might not be justified, the cost of hire from Bell Flow Systems' rental stock is just a fraction of the purchasing price. Hiring also allows a company to try before they buy to ensure that an informed decision is made. With our ultrasonic meters (as well as a few other models) the price of the flow meter can usually be offset as we include the first week's hire as a part-payment for the instrument.
Cost is not the only benefit to hiring flow equipment, all products within Bell Flow Systems' rental stock are pre-configured and arrive with a calibration certificate. These confirm that the meter is suited to the application you need and that it is delivered ready to use. There are no ongoing maintenance or calibration costs required with a flow meter that has been hired either, as we take care of that for you. We also have free technical phone support available, should any issues arise or the user needs operating and installation advice.
Other flow monitoring accessories such as GPRS/Wi-Fi data loggers are alsoavailable to rent.
Whether a meter is needed to monitor in -process, flow usage studies or to simply measure volumetric flow, Bell Flow System has a meter option suitable for virtually any application and in most cases can be delivered the next day. Having extensive product knowledge and a broad range of metering and instrumentation products at their disposal, Bell Flow Systems can provide premium flow measurement advice to meet short or long-term flow monitoring requirements to those who choose to hire or buy.
Please contact us at mail@bellflowsystems.co.uk or call us on 01280 817304 for more information.