ATEX Approval for Oil Interface Meters
Oct 17, 2023
The H.OIL Oil/Water Interface meter is used to measure the interface level between two liquids in the same tank, vessel, well or aquifer. The dissimilar density of two liquids means the lower density, non-conductive product (LNAPL) will float on top of the higher density, conductive liquid (water). Denser products will tend to sink (DNAPL), creating a layer under the water. The premium padded carry case comes included to protect your precision instrument from the elements.
The hydrocarbon resistant Kynar™ jacketed, high tensile steel core tape is able to withstand hydrocarbons, solvents and other harsh contaminants.

The new ATEX intrinsically safe certification makes the H.OIL ideal for use in hazardous environments by Oil & Gas, Chemical and Petrochemical Industries.
Included:
• Premium Stainless Steel Kynar Coated Tape
• ATEX II 1G Ex ia IIB T3 Ga Ta for probe: -45°C to +135° Ta for reel : -45°C to +55°C & CSA Intrinsically Safe Certification w/ Class I, Groups A,B,C and D in zones 0 & 1
• 3/4" (19.2mm) Interface Probe (IP68)
• Electronic Panel with audio and visual signals (Fully Encapsulated to IP65)
• Grounding Lead
• Vinyl, ergonomic holding grip
• 9V Battery
• FREE Backpack Carrying Case w/ adjustable straps, laptop & notepad pouches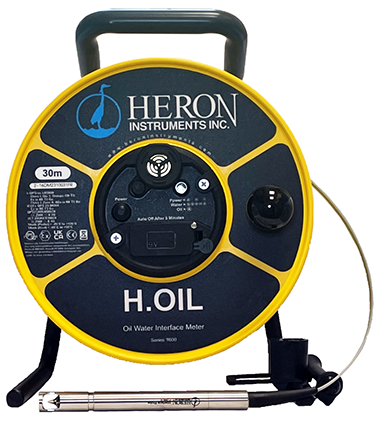 See the product webpage here>>>