dipper-See
Sep 19, 2018
The Heron dipper-See EXAMINER vertical downhole inspection camera is a cost-effective way for people performing well inspections, maintenance, and installation to do their jobs quickly and accurately. The dipper-See EXAMINER comes with everything a well inspector, well driller, or hydrogeologist needs to do more work in less time!


The dipper-See EXAMINER is a robust and cost effective vertical downhole inspection camera. Designed with portability in mind, this self-contained unit is ideal for viewing in wells, drains, vertical shafts, open bodies of water, boreholes and narrow tubes over 25mm (1") in diameter.*
The adjustable positioning arm, conveniently attached to the frame, offers an ergonomic solution for adjusting the monitor for viewing the High Definition (HD) display screen at different angles and lighting conditions. The monitor conveniently houses all of the controls on the front of the panel. Record the video/audio on the SD card provided with the DVR, for easy transfer of video to another device.
The built-in hanger on the frame can support the unit at the top of the well, allowing for hands-free viewing while in the field.
The detachable 4.75" (120mm) camera probe, with a diameter of only 1"(25mm ), will easily fit in observation wells while the scratch resistant sapphire lens ensures clarity of picture.  The 7 built-in LED lights with provide the necessary illumination for most investigations although additional lighting can be added if required due to murky or turbid environments.  This waterproof camera is pressure rated IP68 and tested to withstand 300m (1000') of water head.  It can be quickly and easily replaced in the field if necessary with no specialized tools required.
This complete camera system comes with an assortment of accessories:
Ο DVR
Ο Remote control for the DVR to enable playback in the field
Ο Microphone
Ο 2 rechargable 11.1v lithium ion batteries which will provide up to 12 hours of continuous operation on a single charge
Ο Wall charger for batteries
Ο Retrieval hook for light weight items
Ο Probe centralizer to protect the camera from hitting the sides of the well
Ο Cleaning/polishing cloth for the camera lens
Ο Monitor Visor
Ο Carrying case to keep your accessories organized and protected
Specifications: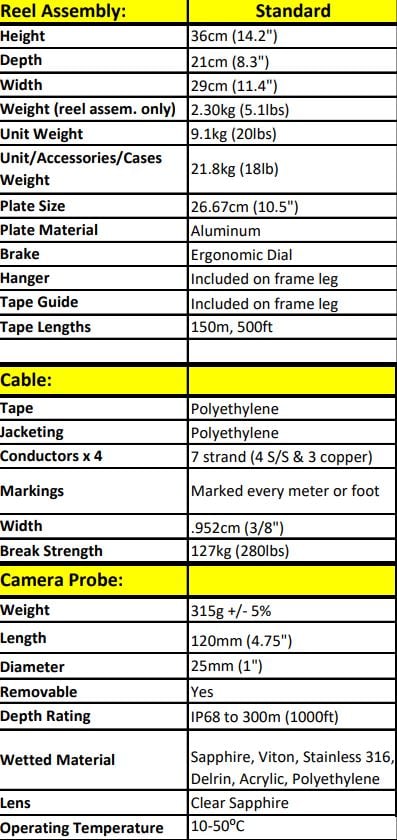 Available in 150m or 500ft tape lengths only*
The dipper-See EXAMINER is a beneficial addition to any groundwater professional's tool chest and an excellent way to improve the quality of reports.  A picture is worth a thousand words.
Further technical information from the manufacturer, Heron Instruments or call Bell Flow Systems for a demo/trial/quotation