Explosion Proof / Flame Proof Oval Gear Flow Meters
Sep 15, 2022
MX-SERIES highly accurate flow meters with Ex ia and Ex D pulse output features:
Rated intrinsically Safe and Explosion Proof, they are designed to endure the rigours of the heavy Industry, the 'Ex' approved series presents an ideal solution for the precise transfer or dispensing of fluids in environments where there is the potential of exposure to flammable gases, or vapours.
Oval gear flowmeters are ideally suited to applications requiring accurate dispense quantities. Measurement of very low flow rates, pulsating flow, small batch sizes, viscous products, and non-conductive liquids are all ideal uses for oval gear meters. Because these meters don't require flow conditioning, no straight piping runs are required, so they can be used in installations where space is limited without affecting performance.
Specification
♦ Pressure ratings up to 2000psi/138 bar.
♦ 316 stainless steel or 6061 anodized aluminium flow meter body and oval gear rotor construction, with FEP seals.
♦ 303 stainless steel sensor body construction.
♦ Supply voltage: 5-27Vdc @ ≤ 15mA.
♦ Output voltage: 0-Vs NPN (25mA max. sinking current). Reverse polarity protected. 22 AWG lead wires: 3 meter length. 1/2″ FNPT or M20x1.5 conduit thread.
♦ Accuracy of ±0.5% of reading, and ±0.03% repeatability.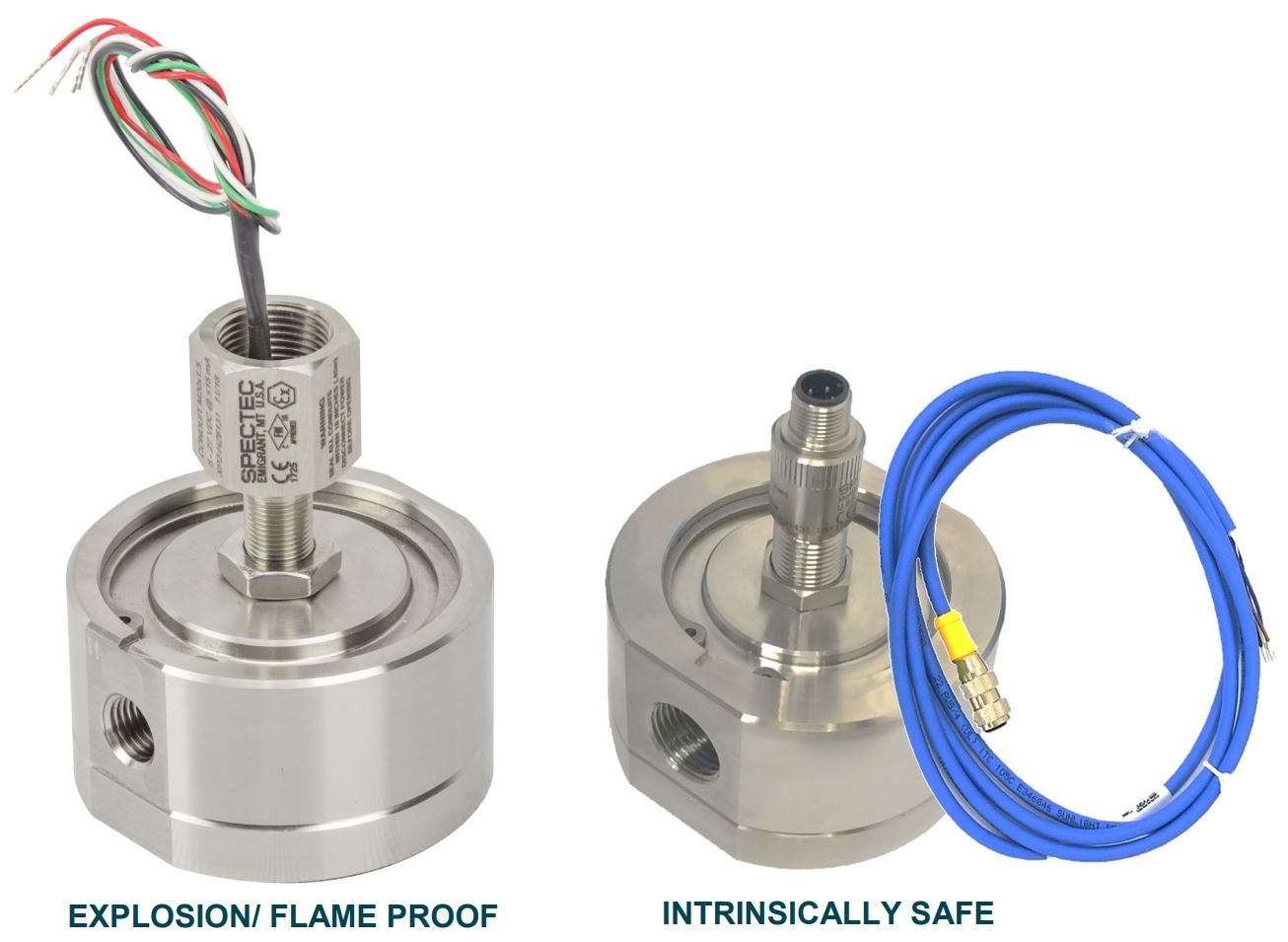 Certifications
Pulse Output options (Chose either of these three pulse options)
NPN Open Collector Ex ia
ATEX & IECEx: II 1 G Ex ia IIC T6...T4 Ga, T6@ -40°c ≤Tamb ≤+65°c
US & CAN:
Class 1, Division 1
GROUP ABCD T6...T5
Class 1, Zone 0, AEx/Ex ia IIC T6...T5
T6 @ -40°c ≤Tamb ≤+65°c
NAMUR Ex ia
ATEX & IECEx:
II 1 G Ex ia IIC T4...T6 Ga
US:
Class 1, Division 1 GROUP ABCD T4 resp. T5
Class 1, Zone 0, AEx/Ex ia IIC T5...T4
T5 @ -25°c ≤Tamb ≤+70°c
NPN Open Collector Ex D
ATEX & IECEx:
II 2 G Ex db IIC T6...T3 Gb, T3@ Ta = -55°C… +140°C
USA & CAN:
Class 1 Division 1
GROUP ABCD T6...T3
Class 1, Zone 1, AEx/Ex db IIC T6...T3 Gb
T3 @ Ta = -50°C… +140°C
Applications:
• Chemical batching
• Additive injection
• Hydraulic test stands
• High temperature chemical processes
• High pressure chemical processes
• Food and beverage batch processes
• Ethanol blending and production
• Pulp and paper
See Models & Prices Here>>
Also available, a range of Explosion proof and Intrinsically safe flow rate/totalisers available from stock