B-Series range of Basic Flow Displays
Aug 19, 2022
B-Series Displays connect to your flow meters pulse output, offering a choice of basic models and features
The basic indicators of the B-Series have all the benefits you may expect from a Fluidwell
product: It's durable, reliable and very easy to operate. Basic with a captial B!
Features
• Programmed and operated via the front keys or remoteley using the Free remote configuration and viewing tool.
• One 20mm and two 16mm knock-out hole cable entries.
• All info at a glance with clear alphanumerical display.
• Displays alarm values with various selectable engineering units.
• Clear 12mm(0.5") numeric and 7mm(0.3") alphanumeric digits.
• Bright LED backlight.
• The B-Series accepts the basic sensor input signals: Reed-switch, Namur, NPN, PNP, Sine wave (coil).
• Configurable pulse, alarm or control outputs.
• Loop powered, analog 4 - 20mA output. • Auto backup of settings and running totals.
• Lithium AA battery, output loop powered and 10 - 30V DC power supply.
• Sensor supply: 8.2V DC.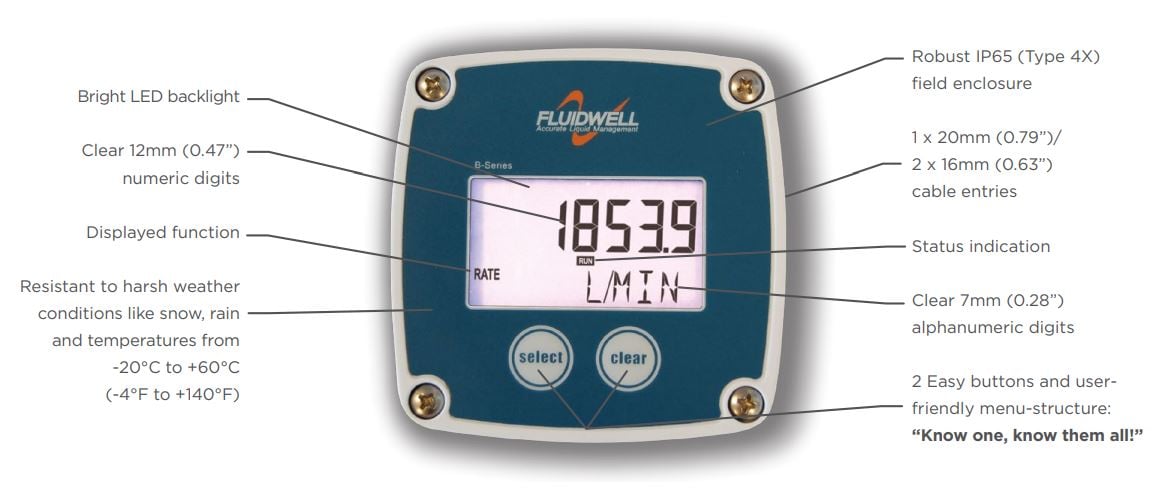 Customized B-Series:

The B-Series can be customized according your own brand. eom prices dependant on quantity.
Guidelines. The front and back cover can be supplied in your brand
color scheme. While the front foil, can be tailor-made and your
logo can easily be added to your own customized B-Series.
Contact us for more information.
For model range and pricing, click here>>